The Hoff's early dismissal from Dancing With the Stars had contestants up in arms. Michael Bolton's sayonara was a controversial mess. But the sadness surrounding tonight's emotional elimination definitely takes the cake.
Here's the somber scoop from backstage at tonight's show:
Spoiler Alert! Mrs. Brady, aka Florence Henderson, was the one to say buh-bye to Dancing With the Stars tonight, and not one of the remaining dancers was happy to see her go.
"I'm going to miss everything about Florence," a tearful Brandy tells us. "She is a brilliant woman. I'm so proud to know her now, and I'm very hurt by her leaving tonight." And Brandy's sentiments seem to be a recurring theme among the dancers.
Says Bristol Palin, "Florence was the one that I bonded with the most. She's such a good person and so good to be around."
"I'm going to miss her," echoes Disney stud Kyle Massey. "She's so sweet and to easy to get along with. You always want to run and squeeze her."
DWTS' pro Tony Dovolani is just as sad as the next person to see Florence leave—well, maybe a teensy bit more. (Did you guys know that he and Mrs. B are buds?!)
"I've known Florence for five years," he tells us, "And she's a friend first, for me. She's a true example of how you shouldn't let age determine what you can and can't do."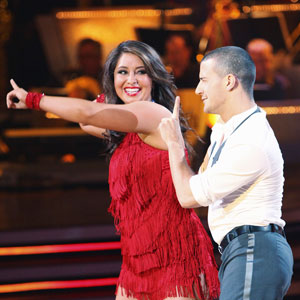 As for the lady of the hour, Florence is down but certainly not out, and she's handling her ouster as gracefully as one might expect. "It was a wonderful experience," says the seasoned TV vet. "I've always admired dancers more than any other group in our business. And I've always wanted to be a real dancer and Corky [Ballas] brought that out in me."
We think so, too, Florence. Well done.
Source: eonline