"I don't mind the spanking!" the singer told EOnline last night at Ubisoft's launch of Just Dance 2. "The spanking gets me going a little bit. It's all good. It looks like it hurts but it doesn't hurt. I try to act like it hurts so he can feel like he really did something but it didn't hurt."
Brandy continued, "Me and Maks are really, really good friends and we're growing to be greater friends. I can guarantee you that after the show is over that he's going to be my buddy."
The Season 11 competitor recently admitted on the show that she hasn't been with a man in six years. So will her pro partner's below-the-belt booty smacking change that?
"Maks is hot, I must admit," she says. "But he's more like a brother to me. But he is the type of guy—that drive and that champion inside, of course—that's the type of guy you want to date."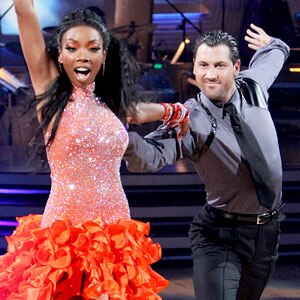 Source:E Online