What can you tell us about tonight's fall finale?

President Martinez will have to face what appears to be a good old human military threat. But of course it's not, and he will quickly realize that Thomas and Isabel have engineered this new crisis. Also, Sean and Leila continue their search for Leila's sister. They stumbled upon a secret basement where strange experiments were being performed on little girls, such as Samantha, all at the behest of Dempsey. At the end of the episode, Leila will discover several major answers...and she will definitely wish she hadn't. This is a really big episode for her and Sean. And for Martinez. And for the rest of the world...
How do you feel about the hiatus/relaunch?

I was a little nervous at first, but we're going to do all we can to make sure people don't forget us and look forward to our return on Feb. 28. This hiatus will allow us to return with two episodes back to back that night, and then our remaining 10 episodes each week without interruptions or repeats. And the truth is, on a show like this, even with the talented people we work with, it's very hard to keep delivering those 42-minute "mini movies" every week. I think it will be extremely helpful to our cast and crew (and writers), and it will allow viewers to experience the show without reruns.
Any plans in place yet for the new batch of episodes? Will they differ in any way from the first 10?

We've already started shooting episodes 11 and 12, which will both air on Feb. 28, directed by Jeffrey Reiner (our executive producer and house director). We've clarified the goals of our characters. Their paths are starting to cross, so expect some great scenes and storylines. We've listened to our viewers and we've pulled back on the flashbacks (we will still have them when justified by the story). And we're loosening the structural rules we had at the beginning. As far as the story, we have several great storylines plotted. The second half of the season will have a greater sense of adventure. And with a little luck...maybe you'll even find out what "the one Event" is!
Last Q, and this one from a fan named Robyn who emailed in: "Is it true that when it was first pitched the show wasn't about aliens?"

Yes. I originally wrote the pilot in 2004 as a straight, realistic thriller. It almost sold then, but then things fell through as they often do. In 2009, thanks to my friend and executive producer Steve Stark, the project was revived at NBC. They simply asked me if I'd be open to adding just a tiny bit of science fiction. Being a huge sci-fi geek myself, I said, yes, of course! I spent a few weeks revising the pilot and writing an extensive bible. And ironically, the original pilot is not that different from the 2010 pilot.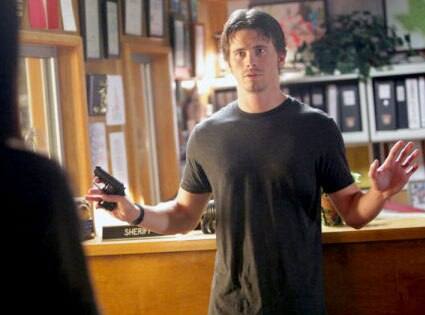 Source: eonline's Kristin Dos Santos